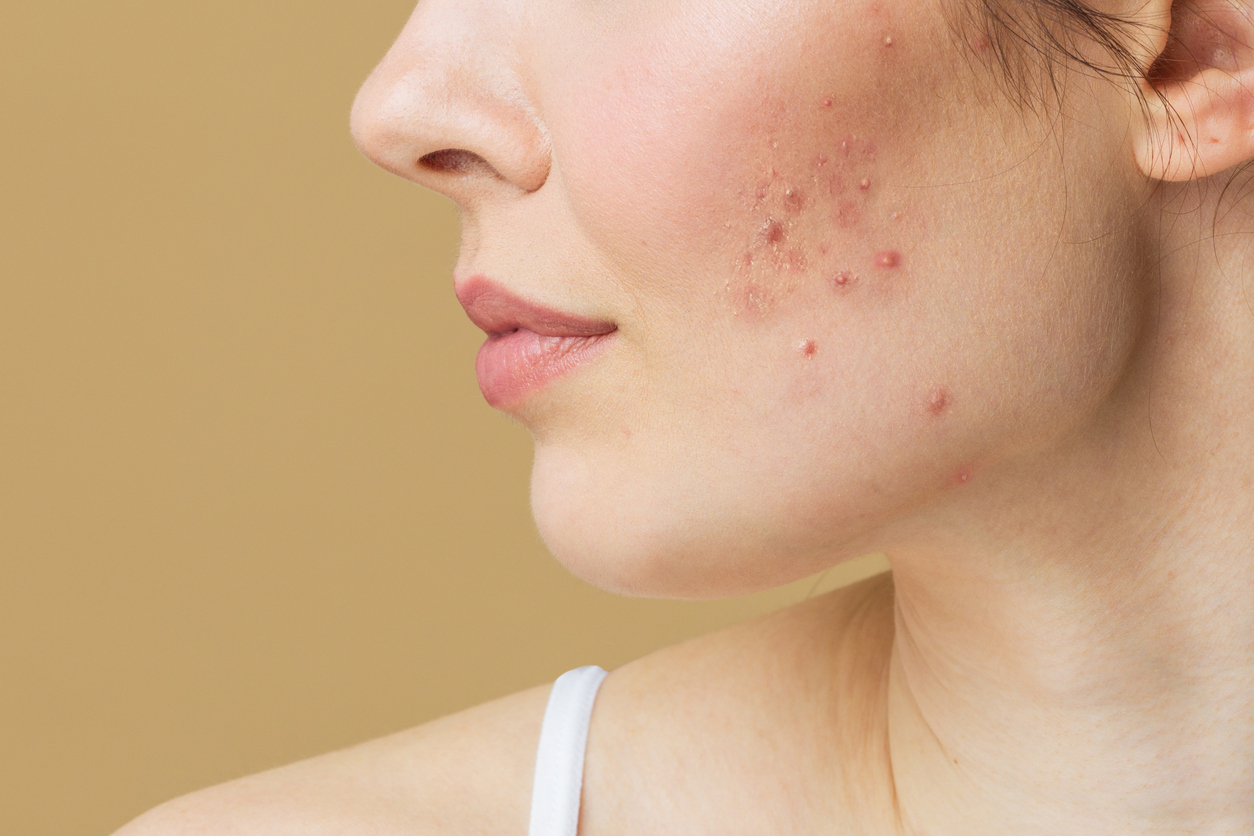 Published:
October 31, 2023
Categories:
Facial acne, also known as acne vulgaris, is a common skin condition that affects millions of people worldwide. It is characterized by the presence of pimples, whiteheads, blackheads, and in some cases, cysts or nodules. While acne primarily affects the face, it can also appear on the neck, chest, back, and shoulders.
Acne is not a life-threatening condition, but it can cause physical discomfort and have a significant impact on an individual's self-esteem. Understanding the causes and triggers of acne is crucial in developing an effective treatment plan.
What is Facial Acne?
Facial acne occurs when the hair follicles become clogged with oil and dead skin cells. The sebaceous glands, which are responsible for producing oil (sebum) to keep the skin moisturized, can sometimes produce excessive amounts of sebum. When this happens, the excess oil, combined with dead skin cells, can clog the hair follicles, leading to the formation of acne.
Different Types of Facial Acne
Acne is a common skin condition that affects millions of people worldwide. It can manifest in various forms, each with its own characteristics and severity. Understanding the different types of acne is essential for proper diagnosis and treatment. Let's explore some of the most common types:
Whiteheads and Blackheads
Whiteheads and blackheads are two common types of mild acne. Whiteheads occur when hair follicles become clogged with oil and dead skin cells. The clogged pore remains closed, forming a small, flesh-colored bump. These bumps are often not inflamed and may not cause significant discomfort. On the other hand, blackheads occur when the clogged pore remains open, allowing the trapped oil and dead skin cells to oxidize and turn black. They are characterized by small, dark spots on the skin's surface.
While whiteheads and blackheads are generally considered mild forms of acne, they can still be bothersome and affect one's self-esteem. Proper skincare and regular exfoliation can help prevent their formation and keep the skin looking clear and healthy.
Papules and Pustules
Papules and pustules are more inflammatory forms of acne. Papules appear as small, red bumps on the skin's surface and are often tender to the touch. They are caused by a combination of excess oil, bacteria, and inflammation. Pustules, commonly known as pimples, are characterized by small, red bumps with a white or yellow center, indicating the presence of pus. They can be painful and may cause discomfort when touched or pressed.
Both papules and pustules can be a result of hormonal changes, stress, or poor skincare habits. It is important to avoid picking or popping these lesions, as it can lead to further inflammation and potential scarring. Consulting a dermatologist can help determine the underlying cause and provide appropriate treatment options.
Nodules and Cysts
Nodules and cysts are severe forms of acne that extend deeper into the skin layers. Nodules are large, painful bumps that often feel solid to the touch. They develop when the clogged pores become infected and inflamed, causing a more significant immune response. Cysts, on the other hand, are pus-filled lesions that can be quite painful and leave scars. They are deep, tender, and can take a long time to heal.
Managing nodules and cysts can be challenging, and it is recommended to seek professional treatment. Dermatologists may prescribe oral medications, such as antibiotics or isotretinoin, to reduce inflammation and prevent further breakouts. In some cases, drainage or corticosteroid injections may be necessary to alleviate pain and promote healing.
Treating Mild to Moderate Acne
Treating mild to moderate acne often begins with a combination of topical treatments that are readily available over-the-counter. However, a dermatologist may also prescribe topical medications in moderate cases.
Over-the-Counter Treatments
For mild acne, over-the-counter treatments can often be effective. These can include cleansers, topical creams, and lotions containing ingredients such as benzoyl peroxide or salicylic acid. These products help to unclog pores, reduce inflammation, and kill bacteria. It's important to follow the instructions provided and give the treatment time to work.
Topical Prescription Medications
If over-the-counter treatments don't yield satisfactory results, a dermatologist may prescribe topical medications. These can include retinoids, antibiotics, or a combination of both. Retinoids help normalize skin cell turnover, while antibiotics can reduce bacteria and inflammation. A dermatologist will assess your acne severity and recommend the most appropriate prescription treatment.
Addressing Severe Acne Conditions
Treating moderate to severe acne often requires a comprehensive approach that combines both topical and advanced therapies. The most common treatments for severe acne include:
Oral Medications for Acne
In cases of severe acne or when topical treatments are ineffective, oral medications may be necessary. Oral antibiotics can help reduce inflammation and kill acne-causing bacteria. Oral retinoids, such as isotretinoin, are powerful medications that can effectively treat severe acne but require close monitoring due to potential side effects.
Advanced Light Therapies and Procedures
In addition to oral medications, advanced therapies and procedures can be considered for severe acne. These may include intralesional corticosteroid injections to reduce inflammation in large cysts, laser or blue light therapy to target bacteria or reduce oil production, or chemical peels to exfoliate and unclog pores. Treatment options will vary depending on individual circumstances and should be discussed with a dermatologist.
Treating different types of facial acne requires a comprehensive approach that addresses the underlying causes and matches the severity of the acne. By understanding the basics of acne, identifying the specific type present, and implementing appropriate skincare routines and treatments, individuals can effectively manage their acne-prone skin and improve overall complexion and self-confidence. If you are in need of an acne dermatologist in Portland or Hillsboro to help manage your moderate to severe acne, look no further than Center for Dermatology. Contact us today schedule an appointment today.